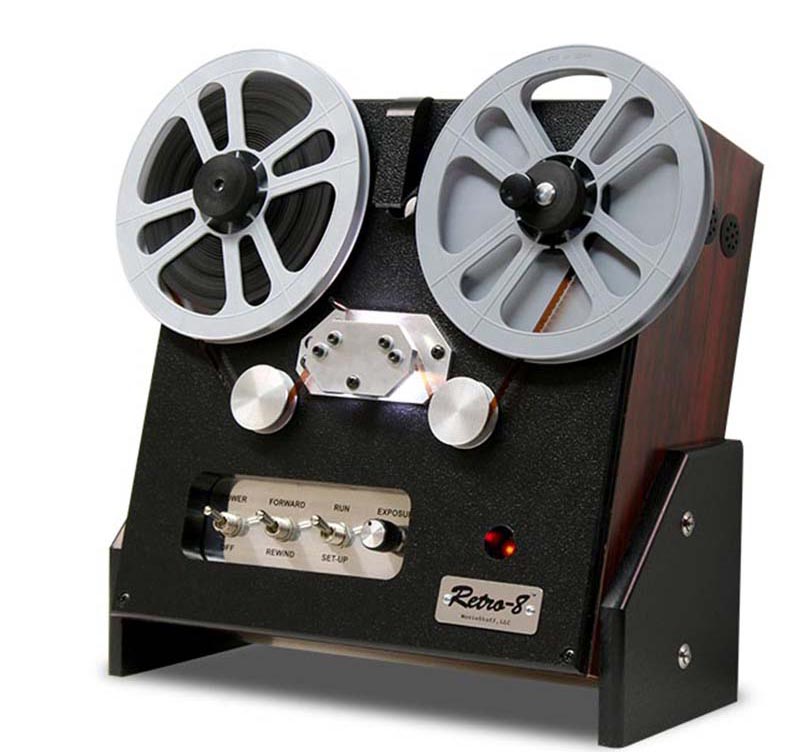 Retro-8 Home Movie Scanner

Now transfers color negative!
-Proudly made in the USA-
Click HERE to order the Retro-8 !


$2995.00
Shipping, import fees, VAT additional

100% flicker-free, the Retro-8 Home Movie Scanner is the first frame-by-frame, continuous feed, desk top, high definition movie scanner for private or professional use. Small in size but big in performance, the Retro-8 scans both reversal and color negative to bring commercial grade scans within reach of the average person or small business owner. Scan and watch your S8 and R8 films on your PC using the included codec-free RetroScan-HD software or export HD or SD .MOV video files that are iTunes compatible or for making BluRay or DVDs on your own Mac or PC NLE system. You can even output codec-free, numbered image sequences that are 1000% archival. These numbered image sequences can be imported into any decent edit system now, or decades from now, to reconstitute your home movie file. You can also capture handy still frames using the "SnapShot" button on the RetroScan-HD viewing software. This unit does not transfer audio but you can run sound film through it.
Set up is simple: No special capture card is required! Plug in the provided USB cable to your PC, load the RetroScan-HD software, and turn it on. Quiet operation and full automation means set it and forget it. Just load the Retro-8 with your home movies, start the scanning process, and go do something else. Unattended, Retro-8 will scan all 4000 frames of a typical 50 foot roll of 8mm film in about 30 minutes!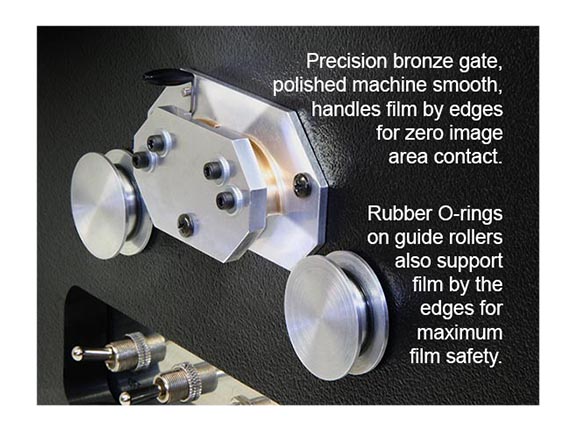 The scanning process will stop automatically at the end of the roll or in the unlikely event of film jam or breakage. We're working towards a possible future software version that will message your smart phone when the unit stops! How cool is that?

Unique, two-motor design with direct drive take up and rewind, combined with no sprockets, no advance claw, no capstan, no pinch roller, no belts, and no gears means virtually no maintenance. Nothing to lube, nothing to adjust. You don't even have to focus! All you have to do is dust it off and scan. Long life super bright LED produces zero hot spot, lasts thousands of hours and produces no heat on the gate or film. You can leave a frame in the gate with the LED on and it will NEVER blister the film or lose focus. A manual exposure knob lets you adjust the light level for underexposed film and the RetroScan-HD software gives offers handy color and contrast correction to fine tune your capture, if desired.
The Retro-8 features SafeScan zero image area contact at the gate and rubber guide rollers that handle the film only by the edges for maximum film safety. Most film with shrinkage, broken sprocket holes or bad splices navigate the film path with ease. You can even use regular scotch tape to splice your films! Bad frames with covered sprocket holes or missing sprocket holes will be skipped automatically during transfer, making editing a breeze! On film with good sprocket holes, the Retro-8's Solid State Registration means a rock steady picture, generally accurate to within a pixel. The Retro-8 has a built-in high resolution, machine-vision pick up that scans in full 24 bit color using industry standard square pixel orientation. HD output files are 16:9, 720p or 1080p with black bars on the left and right of the film frame. RetroScan-HD also outputs both PAL and NTSC SD files with equal quality and is user selectable.
Quality imaging and simplicity of use is why MovieStuff telecine units are number one, worldwide.
Technical stuff:
Maximum Capacity: 400 feet (reel included).

Formats: Both Super 8 and Regular 8.
Connectivity: The Retro-8 connects via a USB cable (included).
Software: Retro-8 requires the RetroScan-HD software (included).
System Requirements: 2.2 GHz or higher i3 or i5 (avoid i7 if possible) Intel or AMD based PC with any 64 bit version of Windows 7 or Windows 8
You need a full 8 gigs of RAM for optimal performance of this unit.
We will be testing with Windows on a Mac in the near future but there will never be any "Mac" specific software.
However, the files produced by this unit are totally compatible with a Mac for editing and viewing.

Hard Drive: You want a modern, fast internal drive when dealing with HD. Solid state is ideal but not required.
For those using laptops, you can record to your C drive with no problem. Do not record to an external drive.

Power: This unit has a universal internal switching power supply that can run on
100-256VAC at 50 or 60 cycles, so no transformer is required for international use.
---